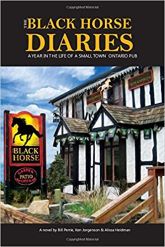 Rosie
Owner and landlady of the Black Horse pub, Rosie is an attractive, hard-working woman in her late forties. She is dedicated to her staff and customers, especially her "regulars".
Mel
One of the Black Horse's full time servers, and a favourite of the customers, Mel is a cheerful woman in her early thirties who is always outgoing and generous. While the regulars all love her, they can't stand her obnoxious boyfriend.
Dylan
Dylan is Rosie's millenial nephew who tends bar at the Black Horse and operate his won "private" taxi service in his spare time. Though he loves his Aunt dearly, it hasn't stopped him pilfering and stealing from the pub on occasion.
Nancy
Another of the Black Horse's staff, Nancy is an older experienced waitress, though often grouchy, irritable and slow with her service. She likes to stick around after work for a few drinks and to flirt with the customers.
Evelyn
Evelyn is one of Rosie's closest friends and has been the pub's chef from day one. The pair will often spend the night in Toronto performing "research" on other pubs, bars, and restaurants.
Brian
Brian "the Piano Man" provides regular entertainment events for the pub, belting out Rock and roll classical and hosting karaoke night.
---
Discover the authors